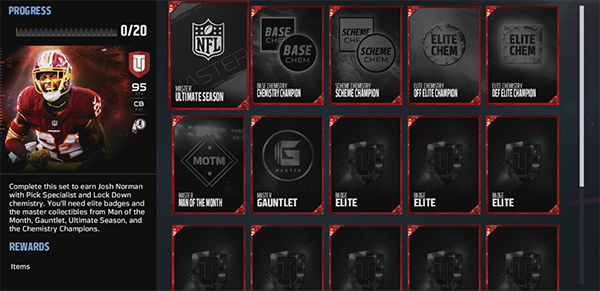 Another major Madden Ultimate Team update is live! Here is an overview:
Midseason Master
The Midseason Master set is here and the reward is a 95 OVR Josh Norman with Pick Specialist and Lock Down chemistry. You will need the Ultimate Season Master collectibles, 4 collectibles from new chemistry solo challenges, a Man of the Month Master collectible, a Gauntlet Master collectible, and 13 elite badges. It won't be easy, but the reward is arguably the best CB in the mode right now.
Football Outsiders
In addition to the regularly scheduled Football Outsiders content, the midseason offensive and defensive MVPs were released today. Here are all of today's new Football Outsiders players:
Chemistry Master
Two new players can be unlocked through the new Chemistry solo challenge sequences. Rodgers is available in the store from the Vertical Chemistry Pack which costs 500 Madden Points and Wentz is unlocked after completing all 28 solo challenges in the Chemistry category. Here are their ratings:
Competitive
Two new Competitive sets were released today for Tyrann Mathieu and Sammy Watkins. The sets require 120 and 110 Competitive badges respectively to complete. Here are the rewards:
NFL Veterans
The NFL Veterans program received an update today as well. The NFL Veterans set requires 4 of each standard badge (bronze, silver, gold and elite) and rewards you with an 85+ OVR NFL Veterans player. Here are today's additions to the program:
Are you planning to chase Midseason Master Josh Norman?