In an exciting update to this year's Most Feared program, EA Sports released three Beasts of the Gridiron today and it's a brand new concept in Madden Ultimate Team.
The idea is that you get a Beasts of the Gridiron badge collectible for logging in and you can redeem it for a 71 OVR Jameis Winston, Ndamukong Suh, or Landon Collins. By completing daily objectives and solo challenges, you earn Beast Food collectibles to improve your chosen player all the way up to an 89 OVR Beast of the Gridiron. You can only get one of the three players, so choose wisely.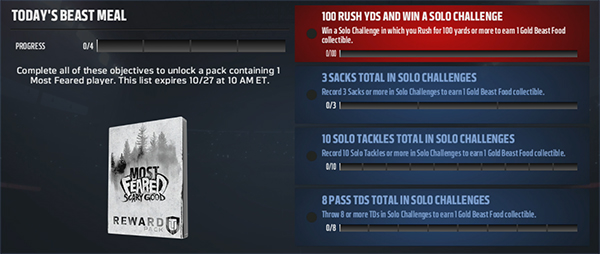 Here are the full ratings at every step of the way to help you make your decision:
Jameis Winston
Ndamukong Suh
Landon Collins
In addition to today's major Beasts of the Gridiron updates, there is a new 10-game solo challenge sequence. You will need the Enraged chemistry on at least one player in your lineup to unlock it which you can get from Brian Urlacher or by upgrading your Beast of the Gridiron to his 86 OVR version. If you complete it, you get 40,000 coins, Most Feared related packs, and the Elite Food collectible you need for unlocking the 89 OVR version of your beast.
What do you think of EA's new approach to Most Feared this year?