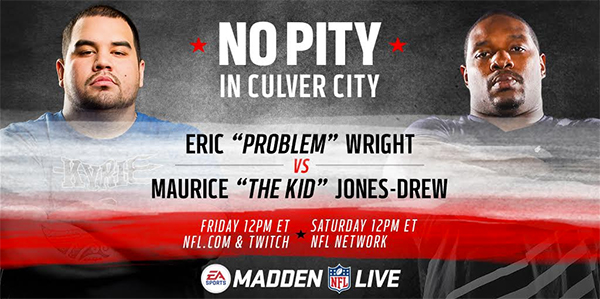 This Friday's episode of Madden NFL Live will feature "No Pity in Culver City", a showdown between Eric "Problem" Wright and former NFL running back and Madden NFL Live host, Maurice "The Kid" Jones-Drew. Problem is the most accomplished and arguably the greatest Madden player of all time. MJD has two Madden Bowl championships under his belt and is looking to add a victory over Problem to his Madden résumé.
The match will consist of one game in Play Now mode with four minute quarters. Each player will have the opportunity to choose from three random teams, or opt out of all of them and be locked into an entirely random fourth team. Current rosters will be used, but injured players can be subbed in if both competitors agree. Adam Rank and Scott Cole will moderate the match and serve as the play-by-play announcers. Trash talk, showboating, and dancing is encouraged.
You can catch all of the action this Friday (12/18) at noon ET on Twitch and NFL.com. If you miss it, there will be a rebroadcast on NFL Network on Saturday at noon ET as well.
Immediately after Madden NFL Live this week, Problem will join seven other top Madden players to compete in the inaugural Madden NFL Live Challenge Invitational which will be live on the EA Sports Twitch channel. Four of them will advance to the Madden Bowl Finals. You can find more information on this event at www.maddenchallenge.com.
Who do you have winning the match between Problem and Maurice Jones-Drew? Leave a comment with who you think will win and your final score prediction for a chance to win a Muthead t-shirt.