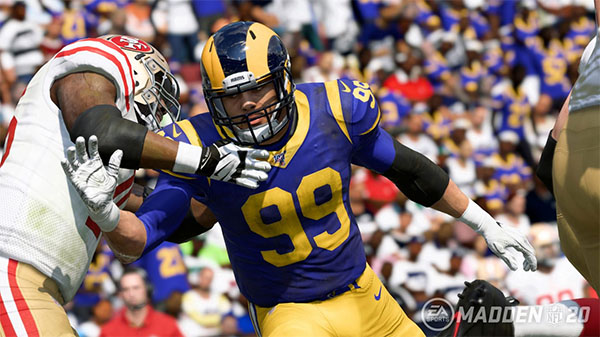 If you've been anywhere around the Madden community this week, you likely know about this weekend's Madden 20 closed beta. If not, here's what you need to know:
Starts: 6/14 at noon ET
Ends: 6/16 at 11:59 PM ET
All modes other than Madden Ultimate Team and Face of the Franchise: QB1 Campaign are included in the beta. Keep in mind, none of your progress will carry over to Madden 20. If you will be participating in the closed beta, keep in mind that capturing or streaming beta content is not allowed. You can find more details on the closed beta on EA's official post.
At EA Play and throughout the week, EA Sports has been giving out codes that give access to the Madden 20 closed beta. If you weren't lucky enough to get one yourself but would still like a shot at participating in the beta, stop by Friday Night Football starting at 7:30 PM ET tonight on twitch.tv/mutheadtv. We'll be giving away 100+ codes tonight during the broadcast.
If you are one of the first few readers of this post, here are beta codes on Xbox One and PlayStation 4:
Xbox One
C6JY9-CX27R-VGGF9-74CWM-97VPZ
VDK63-6PH77-TXKGM-KTTCD-D2JTZ
DYPMY-K6MWJ-KY9WM-GMDDW-Q2DYZ
94TWR-MWC7C-MVM7F-GHFKF-XGPGZ
TYMHR-6KWXC-GH4XX-H6HK2-V6V9Z
PlayStation 4
4FAE-NRND-KH5C
4FD8-93N8-GAJB
4FF9-B4NH-T3F6
4FFT-H9N9-A39T
4FN3-9KNJ-65MJ
We hope you enjoy the beta!