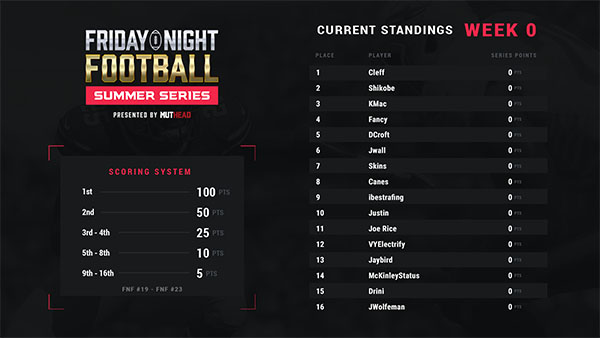 We are excited to announce the Friday Night Football Summer Series which will wrap up our esports program for Madden 19 and kick it off for Madden 20!
Over the next five weeks (FNF #19 - FNF #23) players will compete for Summer Series points in addition to the weekly $1,000 prize pool in Friday Night Football. Summer Series points will be distributed based on each finish in the five tournaments with the following breakdown:
1st: 100 pts
2nd: 50 pts
3rd - 4th: 25 pts
5th - 8th: 10 pts
9th - 16th: 5 pts
After FNF #23 on July 12th, the top six competitors in terms of Summer Series points will be invited to compete in the FNF Summer Series Championship during the first week of Madden 20 which will have a minimum prize pool of $10,000. We will have more information on the FNF Summer Series Championship over the next few weeks. Ties in Series Points will be broken by total FNF wins, then by least FNF losses, then by randomization.
If you haven't tuned into Friday Night Football yet, you can catch it every week at 8 PM ET on twitch.tv/mutheadtv. Each week we have Twitch Drops, MUT content and Grubhub giveaways, and this week we'll be giving away Madden 20 beta codes. We hope to see you there!