Moderator

Join Date:

10/2/2015

Posts:

18,511

MHC:

Frozen
Clan: [SKOL]
Welcome To Pack Simulator Fantasy Football!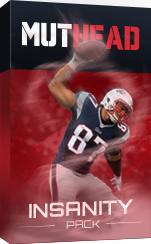 Link to pack simulator: https://old.muthead.com/packs/simulator/4-insanity-pack
**Entries this week should use the Insanity Pack.**
Prizes:
1st Place – 5 MHC
2nd Place – 3 MHC
3rd Place – 2 MHC
4th-10th Place – 1 MHC
Submit a perfect lineup and win a Muthead T-shirt!
How To Play:
Open and save a simulated pack after the posting of this thread
Select 1 x QB, 1 x RB, and 1 x Receiver (either WR or TE) from that pack to represent your fantasy football team for the week.
Post your lineup and link to your saved pack from the simulator in this thread. Post should look something like this:
QB – Deshaun Watson
RB – Todd Gurley
WR – Emmanuel Sanders
https://old.muthead.com/packs/3714662-pack-sim-ff-week-4
Note: We're aware the simulator hasn't been updated for Madden 20. It is up to date towards the end of the M19 cycle (I have personally gotten a Ty Law UL that was part of the final UL release) and includes NFL Draft and Rookie Premiere programs, so most relevant players will be available.
Rules
Only one entry per week
If your lineup includes a player playing on Thursday Night Football, it MUST be submitted prior to TNF kickoff.
Week 6 TNF Teams: Giants & Patriots
Any lineups that do not include Thursday players must be submitted prior to kickoff of first Sunday game. Monday players are allowed, but lineup must still be submitted prior to Sunday kickoff.
**There is an early London game Sunday, so deadline on Sunday is earlier than normal**
Week 6 Bye Teams: Bears, Bills, Colts & Raiders
Edits are fine if you want to change your lineup. If you want to change, please quote your original lineup and post your new one. Deadlines for TNF and on Sunday still apply. If you submit a lineup with a TNF player, it cannot be edited after TNF kicks off.
Pack submitted must be a newly opened and saved pack after the posting of this weekly thread. No older/repeat packs allowed
The perfect lineup referenced in prizes must include the highest scoring QB, RB AND Receiver (WR or TE) from the current week. If the top scorer at a given position in a week is someone not pullable in the simulator, we will move to the highest scoring player that is available in the simulator. T-Shirt can only be shipped within continental US.
Must have a complete lineup
Any ties will go to the entry with the higher pack simulator score
ESPN PPR Scoring
Passing
*TD Pass = 4 points
*Every 25 passing yards = 1 point
*Two point conversions = 2 points
*Interception thrown = -2 points
Rushing
*TD Rush = 6 points
*Every 10 rushing yards = 1 pt
*Two point rushing conversion = 2 points
*Fumble lost = -2 points
Receiving
*TD Reception = 6 points
*Every 10 receiving yards = 1 pt
*Each reception = 1 pt
*Two point receiving conversion = 2 points
- Scoring just posted here for reference. You're more than welcome to, but aren't required to tabulate your score. We'll pull scoring from ESPN on Tuesday mornings and post winners.
Please feel free to post any questions here, and we'll get back to you ASAP. Good luck!
Check results from week 5 here:
https://old.muthead.com/forums/off-topic/sports-discussion/1524811-pack-sim-fantasy-football-week-5
Last edited by
MrJ
: Oct 8, 2019